Alister Orme Tools For Sale A selection of mostly user and some collectable tools

Abbas Past Collectibles At Abbas Past Collectibles we are a small family owned business we collect and sell all types of antique or vintage woodworking and machine shop tools including books and other related items. We also enjoy providing help in finding hard to find items of interest.
Tool makers
Woodjoy tools Fine tools hancrafted for traditional woodworking. Tools include spokeshaves, scrapers, beading tools, router, square, bowsaws, marking gauges, etc.
Wood carving tools West Coast Native style bent knives and related tools and books
Thomas Flinn & Co. Thomas Flinn & Co. have been manufacturing the highest quality handsaws since 1923. To complement our existing range we have added the PAX brand which has been finely crafted since 1776. We pride ourselves on a skilful combination of modern technology and the traditional hand craftsmanship associated with the very best sawmaking. We only use the finest materials including rosewood and beech for our handles and the highest quality steel for our blades. This ensures that every Thomas Flinn saw will be a cut above the rest! We are also pleased to manufacture to client's own specification - please contact us for details.
Robert Sorby Robert Sorby is the world's premier manufacturer of specialist wood working tools with a heritage dating back over two hundred years. These guys make a pretty full line of chisels and also woodturning tools in addition to a lot of other stuff. They belong to that grand old tradition of English woodworking tools. The web site, amongst other things lists there demonstration schedule around the world.
Maxrip Circular Saw Rip Fence Maxrip circular saw rip guide allows carpenters to make fine rips of any width in full sheets of plywood faster and easier than marking and following a line. Made of steel in USA. $18 plus shipping. See and order at Maxrip.com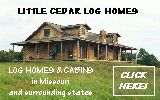 Little Cedar Log Homes Log homes & cabins in Missouri and surrounding states. Log siding & other aromatic red cedar products!
Lie-Nielsen Toolworks Lie-Nielsen Toolworks is the largest maker of reproduction American Woodworking planes.
Kumha Tools Ind. Company manufacturers of woodwoking tools including diamond(PCD),carbide, HSS cutting tools such as TCT circular saw blades, special bits, shaper cutters and cutter sets for wooden floor.