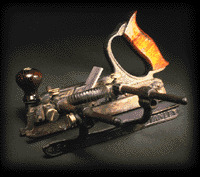 The Stanley 45 combination plane was one of Stanley's most popular planes, in production from 1884 to 1962. More than 20 design changes over the years allow collectors to date most 45's to within a couple of years of their manufacture. In principle it is similar to a plow plane, but the addition of a second skate on a sliding section gives another bearing surface when planing. This makes using the plow blades marginally easier, but also allows the use of virtually any symmetrical cutter such as hollows and rounds, beading, reeding and nosing blades.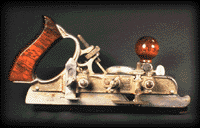 The 45 is the preferred tool for cutting tongue and groove joints, since the fence adjusts to perfectly center the joint on any size board. It really excels at cutting beads, however, and in this capacity it is one of the few hand tools which can actually out-perform modern machine tools. If you would like to dispute this, try setting up your router to put a 1/4 inch bead down the center of a 6 inch pine board, or for that matter try to bead the edge of a board on a router table if the board has any appreciable twist or warp. We usually bead one edge of a tongue and groove joint to minimize the visual effect of expansion and contraction - this is particularly useful for the backs of china hutches and cabinets.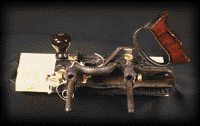 The blades don't have to be razor sharp to work well

, although the plow cutters are so easily sharpened that they might as well be. Don't hold up using your plane until you can sharpen and hone all the cutters, though. Hone the backs and flats of the blades on an oilstone or waterstone. 400 grit wet/dry sandpaper with sharpening oil does a really good job, too, especially if you finish off with 600 grit. I usually work over the beads with a very fine chainsaw file, drawing it along the face as I work. I never put secondary bevels on any of my cutting tools, and I would really recommend not doing it on plane blades, at least until you know what you're doing. The blades were designed to work with the factory supplied bevel, and if you change that bevel I can't guarantee that the blade will work. Look out for badly sharpened blades: not every old-timer was a master craftsman trained in a formal apprenticeship. You'll find lots of times blades have been modified for a special project and may be left completely unusable. Pitting from rust on the back of the blade may also make it useless - no matter how well you sharpen the pits will end up in the blade's cutting edge. I've never bothered to use slipstones etc. on moulding blades and find that they work well without it, but if you're going to use one profile a lot (and especially if you insist on working a difficult piece of wood) you might try it.

The choice of woods is fairly important, as it is when using any moulding plane. Avoid knots, and be careful about grain "reversals" in the wood. In pine, these usually occur in the vicinity of knots, but in woods with any degree of figure to them they can happen anywhere. You have to plane with the grain, of course, and the best way to check this is to look right at the fibers on the edge of the board, not at the figure on the face. We've had really good luck with pine, mahogany and walnut. We've tried cherry with not too bad results, but it is generally best to stay away from difficult woods such as maple, particularly when starting out

. Cabinetmaking planes for hardwoods had their blades set at a steeper pitch to avoid tearouts. Some woods are best moulded with nearly vertical scraper blades, such as in the Stanley 66 and wooden scratch beaders. The common opinion of Stanley planes is that they were pitched as a compromise so they would cut softwoods well, and do some work on hardwoods.
There are adjustable spur cutters set into the skates of the 45, for working across the grain cutting dadoes. We've never sharpened or used these, although if they are razor sharp and the plow cutter is razor sharp, they will almost certainly work in a pinch. Remember that the spur cutters are meant to slice across the woodgrain in advance of the main cutter, so they have to be set just slightly lower than it to be effective. Like all dado planes, you will have to tack or clamp a temporary guide to the surface you are dadoing, and use it as a guide for the main body skate.
---
Copyright 1999 01 Inc., NYC