Introduction
English infill planes were made by hand. Aside from the absolute utility of these superb tools the hand-shaped detailing is in itself worthy of note.

Before the invention and common use of power tools for machining metal, the tools of the metal worker were files and metal cutting chisels. Beautiful and elegant work was possible. By the Second World War both the skilled people and the special files and chisels that they used began to vanish. Today their skills are lost.

After the body of a plane was either forged or cast the final step was hand filing and fitting the body and bedding the blade. Bedding the blade is a mechanical exercise to ensure that the plane blade rests solidly, without gaps, on the cutter seat (plane bed) so that the blade will not vibrate in use, producing chatter. This requires great skill in hand metal work. The same skill carried over in decoratively finishing the exterior of the planes. The planemakers added traditional flourishes, details which serve no functional purpose except to beautify the tool. At Thomas Norris & Son the final touch to a bronze casting was a distinct matte finish accomplished by a single pass of a piece of emery paper over the sides of the tool.

Here are some examples of the finishing touches:

Detail of Norris 1-1/4" Bullnose Plane (c. 1930)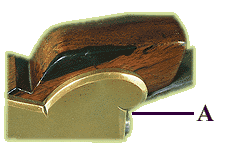 The Victorian curves on the body casting are carefully and evenly filed to a champher. A line accentuates the apex of the curve (A). Partially decorative, the line might have also served as a filing guide for evening out the rest of the hand filed chamfer.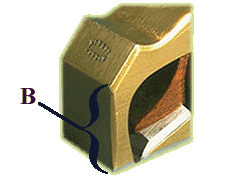 Look at the front of the plane. A chamfer starts, grows, and fades like the profile of a fancy dress (B).

Detail of Norris A7 1-1/4" Dovetailed Steel Shoulder Plane (c. 1935)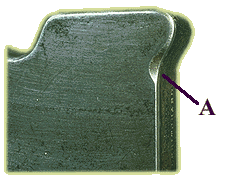 The shaping of the top ends in a wide concavity filed into a natural place where the user can grasp the tool correctly and easily - without rubbing over a sharp tool edge (A).

Detail of Spiers 1/2" Rabbet Plane (c. 1910)

Notice how the roundover of the sides which makes the tool easy in the hand is decoratively stopped on the ends by a filed notch (A).

Detail of Preston 5/8" Shoulder Plane (c. 1920)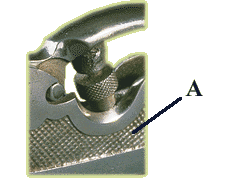 Preston used nickel plated castings for their adjustable shoulder planes. These tools required considerably less hand work to manufacture than did the traditional infill style tool. The casting has a distinct machine-age Victorian feel. The stippling of the body provides an elegant hand grip and the casting is sculpted around the blade clamping screw to give the user's fingers easy access (A).

Detail of Stanley 45 (c. 1900)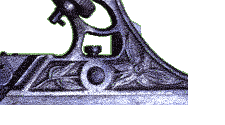 While Preston tools were very much decorated in the styles of the machine age, Stanley, an American company, was also no stranger to decoration. This Stanley 45 from about 1900 shows some very fancy floral decoration. The floral decoration was removed in 1908.