In the late twentieth century a company's product line is usually decided by careful market research. For example: Gateway 2000, a major manufacturer of computers prefers to be known as a computer vendor. Consequently they sell a variety of computers that they make along with a selection of peripheral equipment and software that they buy from other manufacturers. Gateway can, if they wish, make other electronic gadgetry such as stereos but they don't. It's a different market. Huge manufacturers that do make a wide range of things typically divide themselves up unto divisions so that the a coherent marketing picture is presented to the public.
In the nineteenth century, the tool industry's standard practice of manufacturing applied extensive amounts of hand labor to produce item in small batches. This made it easy for a company to carry a wide range of goods, styles and sizes. In 1909 Edward Preston & Sons, the great tool manufacturer offered for sale a bewildering assortment of tools of every description for every trade. Along with tools that one would expect a tool manufacturer to sell, such as all sorts of planes, rulers, levels, thermometers, braces, tool handles, their 168 page catalog also describes cucumber slicers (improved and regular models), ice mallets, a wide variety of corkscrews (23 different styles) and key rings (4 styles, 4 sizes per style). Their product line is a window into Victorian lifestyles. Button hooks, ice picks, and carpenters' tool baskets are just some of the items they sold which have vanished from our lives. However the best part of going to a museum is getting a glimpse of the past. Preston also sold the wonderful, whimsical items below. Can openers from a time before the rotary opener was invented.
The prices given below are from the Preston 1909 catalog.

Preston No. 1603
Sardine Openers - Bronzed "Fish" Pattern
This was offered in two versions, with either a hardened (4/6 per dozen) or unhardened blade (4/- per dozen). It is not known which this is.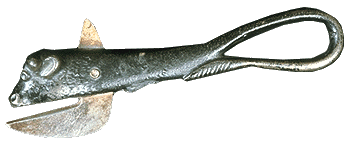 Preston No. 1626 or 1625
Best Bronzed "Bull's Head" Meat Tin Opener
No. 1626 was hardened (6/- per dozen) , no. 1625 was not (5/- per dozen). It is not known which this is.
We realize these objects are not woodworking tools but they are wonderful in themselves.
NOTE: The prices above are in British pounds, shillings and pence of the time. 4/6 means four shillings sixpence. 5/- means five shillings.