American Levels and Their Makers

---
Inclinometer by The Patent Level Company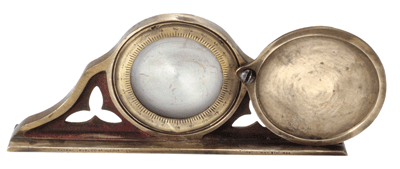 The maker of this inclinometer - The Patent Level Company - was located in Bridgeport, Connecticut according to the stamp on the base of the level. To date, however, no other record of the existence of this company has been found. The patent date - May 8, 1866 - corresponds to the date on which a patent was granted to Andrew. J. Vandergrift of Cincinnati, OH, for an "Improvement in Spirit Levels."
Except for the circular chamber, this level bears little resemblance to the tool envisioned by the patent. The patent envisioned a wooden stock (and this level does exist in a wooden stock) with the circular chamber in the center along with a rectangular track near the edges of the stock. The rectangular track was to contain a separate fluid and its bubble was to have been read against a scale on either end of the stock.
The inclinometer is 57/8" at the base and 2 7/16" tall with a circular chamber, 2 1/8" in diameter. When the chamber is half filled with a fluid it will indicate the angle at which the instrument is sitting. The chamber is closed with a "watchmakers' crimp seal." There is no way to replace lost fluid without removing the front scale, glass and crimp seal. All of the known versions of this inclinometer that have fluid still inside have had a hole drilled in an inconspicuous place in order to add fluid. This one has no fluid and no obvious access hole.
An early version of this brass tool is elaborately decorated with scalloped webbing, a star on the face of the front cover and a large eagle cast on the back side. That version contains the notation "patent applied for" and does not identify the maker. There is no obvious connection between the inventor and anyone in Bridgeport. However, a Nathan W. Vandergrift, a machinist, appears in the Bridgeport City Directory in 1867 to 1872. No Vandergrifts are found prior to 1867 or after 1872.
Copyright 1999 01 Inc., NYC